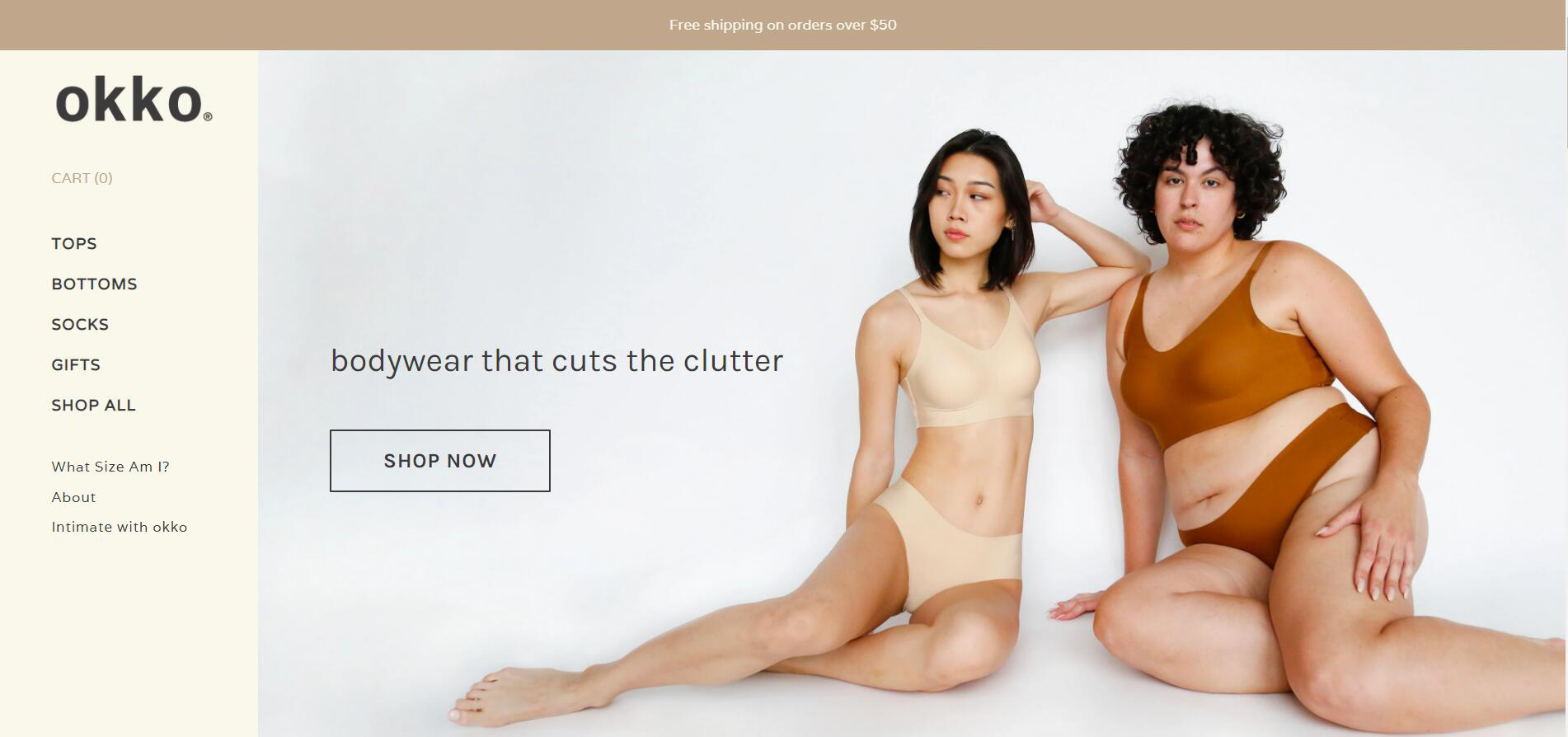 Founded on the ethos of minimalism, Okko is on a mission to cut the clutter, starting with the top drawer. We design bodywear that prioritizes versatility and reliability over trendy drops and fast fashion. At okko, you can find undergarments just work.
Okko Affiliate Program Benefits and Features:
Commission: 3.2%
Category: Apparel, shoes, and accessories
Cookie Window: 30 day(s)
Hold period: 30 day(s)
Banners: Yes
Deeplinking: Yes
Okko coupon: Yes
Service Areas: United States
Policy: Closed Pay-Per-Click Policy. Please make sure that you do not bid on any Okko Trademark. Paid keyword ads that bid on the terms relating to Okko are not allowed. Those forbidden paid terms include but are not limited to,Okko.com, or www.Okko .com. Any variations or misspellings are also prohibited.
FAQ
1. What is Okko?
Founded in late 2018 by Phoebe Kunitomi, okko (standing for Our Kind of KnockOut) knows women can do more with less. Through intentionally straightforward and minimal bodywear, okko empowers all women to declutter in more ways than one — starting with the top drawer.
As the daughter of a Korean mother and Japanese father, Phoebe's upbringing was grounded in minimalism, and she applies that conscious mentality in okko's timeless and comfortable designs.
Why shouldn't women have underwear that just works? Turns out, the words "invisible" and "forgotten" carry a negative connotation in most scenarios, except when we're talking underwear. okko delivers on undergarments that are worn to be forgotten, and when you're not thinking about what's underneath, you're unstoppable.
Inspired by the #KnockOut women Phoebe has met along the way, okko is about deliberate consumption, combining form with function, and encouraging all women to be unapologetically themselves. Our very first products — the seamless bra, undies, and nipple covers — were born from the input and feedback from over 100 women of various shapes, sizes, and backgrounds, and this commitment to our loyal and honest okko customers will always be at the forefront.
okko is the foundation of a life lived consciously, minimally, and never without purpose. Making only products worth owning, we hope to transform your top drawer once and for all.
2. How long do you have to make a sale from someone who uses your affiliate link?
Okko uses a 30-day last touch cookie system for commission attribution.
3. How much does the Okko affiliate program pay?
Okko affiliates are paid 3.2% of the total purchase amount made by their referrals.
4. What does it cost to become an affiliate?
Nothing. Applying to and participating in our program is completely free. We do not impose an application fee or a minimum sales quota.
5. Is my site eligible to become an Okko affiliate?
Okko only works with a limited number of high-quality sites. We prefer those who can help drive funnel awareness in various channels that provide context for how Okko works. We reserve the right to refuse any site that does not meet our quality and content standards. For more information, please read our Affiliate Agreement carefully.
6. How do I get paid?
We send payment via Wire transfer and PayPal. If you wish, we may pay you with Payoneer or e-wallet as alternatives. You are responsible for any taxes associated with commission fees.
How to Join Okko Affiliate Program
Getting up and running is a snap. We'll provide step-by-step directions:
1. Sign up
First of all, you need to sign up for an account at affjumbo and input your basic information, like name, website url, company information, payment information,etc and how you promote Okko.
2. Apply for program and get approved
If you deem fit for Okko program, they will approve your application within 2-3 business day. Once verified, you can start promoting and earn tons of commission. You can get links and banners on the dashboard to ease your marketing process.
3. Withdraw
Once you have hit the $100 threshold in affiliate commissions, you will be able to request for payment, which will be paid via wire transfer, PayPal, Payoneer or other alternatives.