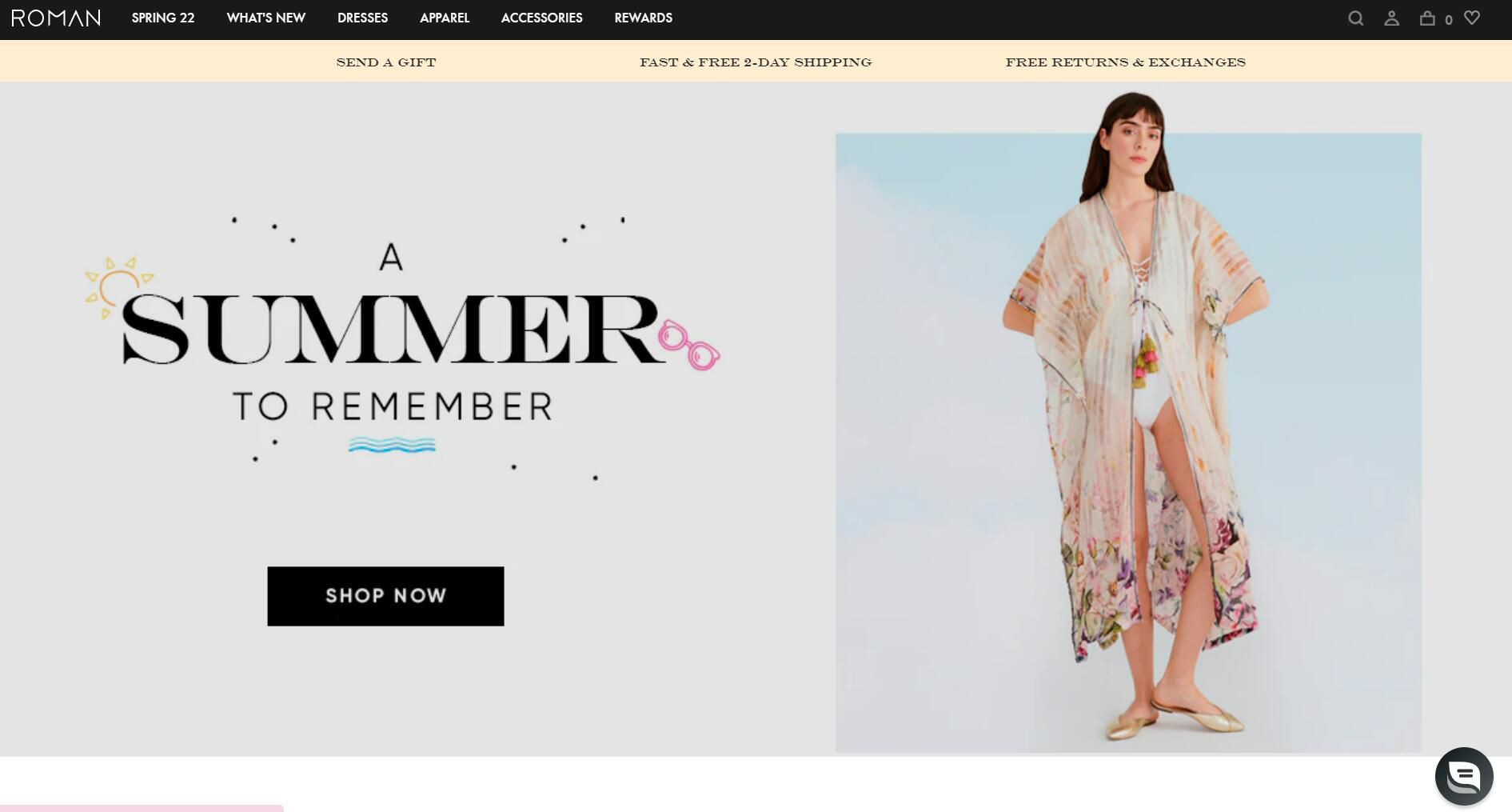 Founded in 1980, ROMAN emerged out of a desire to reinvent women's ready-wear in Turkey. Today, we have grown from a single store in the trendy Nisantasi neighborhood of Istanbul to more than 70 locations worldwide. As Turkey's fashion industry grew, ROMAN USA emerged as the leading source of upscale-quality Turkish clothing in the U.S.
Creative design and top quality are our utmost priority. We deliver attainable luxury and a commitment to stylish, unique designs that are produced in sustainable manufacturing environments.
Our collection is comprised of products for all occasions—from casual and evening wear to beach and boardroom. We're proud that our customers define us as modern, fresh, different, graceful, and inclusive of all women.
ROMAN USA celebrates women at the center of everything we do, beginning with our employees, extending to our partners, and culminating with our customers.
Our Reason for Being
We exist to empower women worldwide. To bring sophisticated ready-to-wear that is high-quality and unexpectedly priced to every woman. We want ROMAN clothing to enhance every woman's ability to feel confident, stylish, and beautiful.
What We Stand For
Visionary Design: True to our Turkish roots, we embrace modern fashion and design. Our clothing draws inspiration from the art of the ages and plays with modern fashion trends, resulting in pieces that are truly unique. These one-of-a-kind designs are limited in production, elevated only by the functionality and quality of our products.
Daring to stand out: Our collection is carefully crafted to stand out in the U.S. ready-to-wear market. We purposefully curate styles that fill a gap in the market: quality, well-designed, luxury clothes for women at a reasonable price.
Service above all: We strive to create exceptional experiences for our customers, both in-store and online. At ROMAN USA, our customers are our family.
Empowering every woman: Beyond our fashion, we seek to create a space where all women can access their power, strength, and confidence. From our customers to employees, we seek to create opportunities for all women. We hope that our clothing will serve as the extension and amplifier of every woman's uniqueness.
ROMAN USA Affiliate Program Benefits and Features:
Commission: 6%-8%
Category: Apparel, Shoes, and Accessories
Cookie Window: 30 day(s)
Hold period: 30 day(s)
Banners: Yes
Deeplinking: Yes
ROMAN coupon: Yes
Service Areas: United States
Policy: Open Pay-Per-Click Policy. ROMAN does permit pay-per-click. This includes bidding on brand terms, variations, and misspellings. You are authorized to use ROMAN's domain as the display URL in any paid search activity on any search engine.
FAQ
1. What is the ROMAN USA affiliate program?
ROMAN USA affiliate program is a fashion brand eCommerce affiliate program.
ROMAN USA is a women's ready-to-wear fashion brand anchored in innovative, unexpected design. We celebrate women at the center of everything we do, beginning with our employees, extending to our partners, and culminating with our customers.
2. How long do you have to make a sale from someone who uses your affiliate link?
ROMAN USA has a 30-day cookie. As long as the customer purchases within 30 days of arriving with your affiliate link you will receive the commission.
3. How much does the ROMAN USA affiliate program pay?
ROMAN USA pays a flat 6%-8% commission.
4. What does it cost to become a affiliate?
Nothing. Applying to and participating in our program is completely free. We do not impose an application fee or a minimum sales quota.
5. Is my site eligible to become a ROMAN USA affiliate?
ROMAN USA only works with a limited number of high-quality sites. We prefer those who can help drive funnel awareness in various channels that provide context for how ROMAN USA works. We reserve the right to refuse any site that does not meet our quality and content standards. For more information, please read our Affiliate Agreement carefully.
6. How do I get paid?
We send payment via Wire transfer and PayPal. If you wish, we may pay you with Payoneer or e-wallet as alternatives. You are responsible for any taxes associated with commission fees.
How to Join ROMAN USA Affiliate Program
Getting up and running is a snap. We'll provide step-by-step directions:
1. Sign up
First of all, you need to sign up for an account at affjumbo and input your basic information, like name, website url, company information, payment information, etc and how you promote ROMAN USA.
2. Apply for program and get approved
If you deem fit for ROMAN USA program, they will approve your application within 2-3 business day. Once verified, you can start promoting and earn tons of commission. You can get links and banners on the dashboard to ease your marketing process.
3. Withdraw
Once you have hit the $100 threshold in affiliate commissions, you will be able to request for payment, which will be paid via wire transfer, PayPal, Payoneer or other alternatives.